Loading... Please wait...
Important Note
---
The Lact-Aid office will be closed from
Friday March 31 to April 11.

All orders submitted after 10am (EDT) on March 31 will be shipped as soon as possible after April 11.

Please check our Amazon store for
bags and nursing trainers.
For over 50 years, mothers around the world have been breastfeeding with a little help from . .
Lact-Aid© Nursing Trainer™ System
• Feed Baby Supplement at the breast
• Aid Suck-Training, for oral physical therapy
• Effective nutritive suckling builds milk supply
• Maintain or re-establish the breastfeeding bond
• Provide adequate nutrition when milk supply is low
Lact-Aid© Excellence - for over 50 years
• Proven Safety & Effectiveness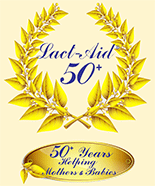 • Recommended by doctors, nurses, lactation consultants, oral physical therapists & books on breastfeeding, birth and parenting